Anthony S. Almeida
Associate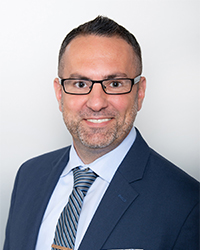 O: (732)757-0165
F: (732)358-0180
T: (800)757-2304
E: [email protected]
Anthony S. Almeida is a senior litigation associate at Poulos LoPiccolo, P.C. He has over a decade and a half of legal experience which has primarily focused on representing aggrieved workers in employment-related litigation. He has represented individuals and classes of individuals in state and federal courts and before various federal and state agencies. Mr. Almeida has also successfully briefed and argued a number of appeals before the New Jersey Appellate Division and the Supreme Court of New Jersey.
Mr. Almeida received his Bachelor of Arts degree from Rutgers University and his Juris Doctor degree from the Rutgers University School of Law – Camden. After law school, Mr. Almeida served for two years as a law clerk and attorney-advisor to the Honorable Janice K. Bullard, an Administrative Law Judge within the United States Department of Labor. Mr. Almeida then went into private practice primarily litigating employment claims on behalf of workers against their employers and former employers. Mr. Almeida has fully litigated legal actions in state and federal courts under various laws, including, but not limited to, the New Jersey Law Against Discrimination, New Jersey Conscientious Employee Protection Act, New Jersey Wage and Hour and Wage Payment Laws, the federal Fair Labor Standards Act of 1938 and the federal Family Medical Leave Act. Mr. Almeida has also pursued claims for wrongful termination of workers under other causes of action such as violation of public policy and workers' compensation retaliation. Mr. Almeida has jury trial experience both on his own and as a second chair.
Mr. Almeida is admitted to practice in all state and federal courts in the State of New Jersey as well as the United States Court of Appeals for the Third Circuit. Mr. Almeida is also a member or past member of the National Employment Lawyers Association – New Jersey, the New Jersey Association of Justice and The Sidney Reitman Employment Law American Inn of Court.
Bar Admissions
Court Admissions
United States Court of Appeals for the Third Circuit
United States District Court for the District of New Jersey
Significant Cases
Branch v. Cream-O-Land Dairy, 459 N.J. Super. 529 (App. Div.), certif. granted, 240 N.J. 202 (2019)
Espinal v. Bob's Discount Furniture, LLC, Civil Action No. 17-2854 (JMV) (JBC), 2018 WL 2278106 (D.N.J. May 18, 2018)
Veras v. Interglobo North America, Inc., Docket No. A-3313-16T1, 2018 WL 5316459 (App. Div. Oct. 29, 2018)
Geant v. Board of Review, Docket No. A-5163-13T1 (App. Div. Nov. 2, 2015)