Joseph LoPiccolo
Shareholder / Co-Founder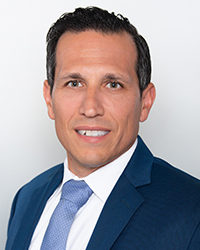 O: (646) 931-0011
F: (732) 358-0180
T: (800) 757-2304
E: [email protected]
Joseph LoPiccolo represents clients in complex litigation, class actions and personal injury in state and federal courts. Throughout his career, Joseph has worked extensively on some of the largest and complex litigations in history. Prior to co-founding Poulos LoPiccolo, Joseph LoPiccolo was an associate with the prestigious Manhattan law firm of Hughes Hubbard & Reed LLP, recently ranked #1 in the United States in the American Lawyer's A-List 2011 – 12. During his 8 years at Hughes Hubbard, Mr. LoPiccolo was a member of the Litigation Department, concentrating on a broad variety of complex litigation. Such matters included:
Defending a large pharmaceutical manufacturer in personal injury, class action and multi-district litigation involving the company's top selling arthritis drug;
Defending a large pharmaceutical manufacturer in individual and class action lawsuits involving the company's popular osteoporosis drug;
Representing the SIPA Trustee in the liquidation of Lehman Brothers, Inc., the largest broker-dealer liquidation in history, where he led a team in the determination and litigation of close to $100 billion in claims against the estate as well as a team in the prosecution of millions of dollars in avoidance actions;
Representing one of the largest interior general construction contractors in NY, including obtaining a successful arbitration award of close to $1 million related to the renovation of a NYC community center and successfully defending against numerous mechanics lien foreclosure actions.
Since starting Poulos LoPiccolo with his partner, John Poulos, in 2011, Joseph has brought a number of class actions and individual cases on behalf of hundreds of thousands of consumers related to a variety of products and services.  Such actions include:
Miller et al. v. Chrysler Group, LLC, 12-cv-0760 (FLM)(DEA), United States District Court for the District of New Jersey – Co-Lead Counsel in Class action filed on behalf of all purchasers of Chrysler vehicles that have defective sunroofs causing water to leak inside and damage their vehicles;
Kuzian et al. v. Electrolux Home Products, Inc., 12-cv-3930-(NHL)(AMD), United States District Court for the District of New Jersey – Co-Lead Counsel in Class action filed on behalf of all purchasers of Electrolux and Frigidaire refrigerators that have among other defects, defective icemakers;
Caruso, et al v. Work Out World ("WOW"), et al., MID-L-3112-13 – Co-Lead Counsel in Class action filed on behalf of all current New Jersey residents who, during the proposed class period, entered into a Membership Agreement.  It is alleged that the Membership Agreements violate the New Jersey Consumer Fraud Act and Truth-in-consumer Contract Warranty and Notice At ("TCCWNA") for, among other reasons, continuing to charge members' credit cards for dues after the members provided WOW with notice of termination of their membership;
In Re Transvaginal Mesh Litigation – Representing plaintiffs in both the federal and state courts related to alleged defects in the mesh products which are intended to provide support for prolapsed pelvic organs and/or the urethra when a woman's supporting muscles and tissue have been weakened due to age and other causes;
In Re Mirena Liability Litigation, Case No. 297 – Representation of plaintiffs against Bayer Healthcare Pharmaceuticals, Inc. alleging that the Mirena IUD migrated and/or perforated the plaintiffs' uterus causing sever injuries.
Mr. LoPiccolo is a 2003 cum laude graduate of St. John's University School of Law, where he was a member of the American Bankruptcy Institute Law Review, and received his undergraduate degree, magna cum laude, from Towson University in 2000.
Bar Admissions
New York, 2004
New Jersey, 2013
Court Admissions
United States District Court, Eastern District of New York
United States District Court, Southern District of New York
United States District Court of New Jersey
Professional Activities
Member, New York County Bar Association
Member, Nassau County Bar Association
Member, New Jersey Association for Justice
NYCLA Inns of Court
Volunteer, Make-A-Wish Foundation of Metro New York and Western New York