What Makes Commercial Vehicle Accident Claims Different?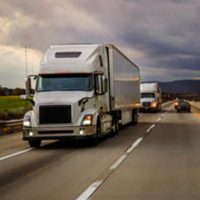 Automobile accidents are reported on a daily basis in our region. The New Jersey Department of Transportation reports that there are approximately 270,000 motor vehicle collisions reported in our state each year—with around 18,000 occurring in Monmouth County alone. A significant share of multi-vehicle crashes involve commercial vehicles. For a number of different reasons, these cases can be more complicated for injured victims and their families. In this article, our Monmouth County commercial vehicle accident lawyers highlight four key things that make commercial vehicle accident injury claims different.
Commercial Vehicles are Often Subject to Heightened Safety Standards 
Commercial vehicles such as trucks, buses, and vans are subject to stricter safety standards than personal vehicles—sometimes even federal rules. These standards may include requirements for regular maintenance, special training for drivers, and specific safety equipment such as underride guards or brake monitoring systems. If these safety standards are not met, it may be easier to prove negligence on the part of the commercial vehicle driver or company. 
Large Commercial Vehicles (Tractor Trailers, Buses, etc.) Can Cause Worse Collisions 
Collisions involving large commercial vehicles such as tractor-trailers or buses can be much more severe than those involving smaller passenger vehicles. These accidents can result in catastrophic injuries, property damage, and even death. The weight and size of these vehicles often cause significant damage to other vehicles involved in the crash, and the resulting medical bills and other expenses can be astronomical. It is especially crucial to have an experienced commercial vehicle accident lawyer on your side after a catastrophic accident. 
A Number of Different Parties May Be Responsible for the Crash 
In a commercial vehicle accident, there may be multiple parties who are potentially responsible for the crash. Among other parties that may be responsible, you could have a claim against the driver of the commercial vehicle, the company that owns or operates the vehicle, the manufacturer of the vehicle or any faulty parts, or even other drivers on the road. Identifying and assigning responsibility to the appropriate parties can be complex and require a thorough investigation. 
Commercial Insurance Carriers are Especially Aggressive
Commercial insurance carriers are often more aggressive in defending against claims than personal insurance carriers. They may employ their own teams of lawyers and investigators to try and minimize the liability of their clients. These insurance carriers may also have more resources to fight against claims, including expert witnesses and other professionals. Do not go it alone: Consult with an experienced New Jersey commercial vehicle accident attorney.
Set Up a Free Consultation With a Commercial Vehicle Accident Lawyer in Monmouth County
At Poulos LoPiccolo PC, our New Jersey commercial vehicle accident attorneys are skilled, experienced, and sophisticated advocates for victims and families. If you were hurt in a crash with a commercial vehicle, we are here to help. Contact us right away for a no cost, no obligation review of your case. From our law office in Ocean, we handle complex commercial vehicle accident claims in Monmouth County and throughout the surrounding region in New Jersey.
Source:
state.nj.us/transportation/refdata/accident/pdf/TotalCrashRecordsbyCounty.pdf