How Do You Prove That A Driver Was Distracted After A Crash In New Jersey?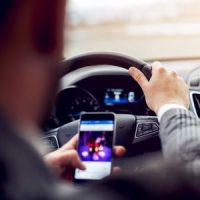 Distracted driving is a serious—and growing—problem on our roads. According to data cited by the Insurance Information Institute (III), more than 3,000 people are killed and many thousands more are injured in distracted driving crashes each year. However, safety researchers believe the official numbers are an undercount. Distracted driving is systematically underreported.
You may be wondering: How can I prove that my crash was caused by a distracted driver? It is a case specific question. Even in a choice no-fault state like New Jersey, fault can still matter in a claim. Here, our Monmouth County distracted driving accident attorney provides an overview of the key things to know about proving a driver was distracted after a crash in New Jersey.
 Every Suspected Distracted Driving Crash Should Be Thoroughly Investigated 
Investigation is essential. Every suspected distracted driving crash should be thoroughly investigated by an experienced New Jersey auto accident lawyer. Your attorney can help you determine the cause and hold negligent drivers accountable. A comprehensive investigation can reveal crucial evidence that may prove distraction was a contributing factor in the accident. A proactive investigation will put you in a far better position to pursue justice.
 An Overview of Types of Evidence that May Help to Prove Distracted Driving 
Ultimately, fault-based car crash claims are evidence-based legal cases. A successful claim should be built on a strong, sturdy foundation of reliable supporting evidence. Here is a list of some of the most common types of evidence that can be used to prove distracted driving:
Admissions Against Interest: At some point during the process—whether talking to you, a police officer, or an insurance adjuster—the other driver may make an admission against interest. In other words, they may say something intentional or otherwise that indicates that they were unlawfully distracted.
Witness Testimony: One of the most compelling ways to prove that a driver was distracted during a crash in New Jersey is to gather witness testimonies. Bystanders, passengers, or other drivers who saw the incident firsthand can provide valuable accounts of the events leading up to the collision.
Cell Phone Records: In today's digital age, one of the most common forms of driver distraction is using a cell phone while driving. To prove that a driver was distracted by their phone, investigators can request cell phone records, which may show that the driver was sending text messages, making calls, or browsing the internet during the time of the crash. Cell phone records are considered strong evidence in court as they provide a time-stamped record of the driver's activity.
Physical Evidence: Physical evidence from the crash site can also be used to determine if a driver was distracted. Skid marks, debris, and vehicle positioning can be analyzed by accident reconstruction experts to assess whether the driver's behavior was consistent with distraction. For example, a lack of skid marks may indicate that the driver did not attempt to brake, suggesting that they were not paying attention to the road.
Contact Our Monmouth County Auto Accident Attorney for Immediate Help
At Poulos LoPiccolo PC, our Monmouth County car crash lawyers fight hard to help victims and families get justice and complete financial compensation. Hurt in a distracted driving collision? You need top level legal representation. Contact us immediately for your free, no strings attached case review. We handle distracted driving accident claims throughout Monmouth County, including in Middleton Township, Howell Township, Marlboro, Freehold Township, and Long Branch.