Construction Accidents: An Overview of New York State Labor Law 240 (Scaffold Law)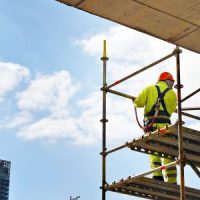 Construction is one of the most important industries in New York. A modern construction site is often a fast-paced, even hectic workplace. New York has specialized regulations in place to help protect construction workers when scaffolding is in place. Within this article, our New York workplace accident attorney provides an overview of the state's scaffold law.
Background: Falls and Falling Objects are Serious Safety Hazards on Construction Sites 
Falls and falling objects are two of the most common safety hazards on construction sites. The Occupational Safety and Health Administration (OSHA) reports that falls are the leading cause of fatalities in construction, accounting for approximately one-third of all construction-related deaths. Falling objects, on the other hand, are the second leading cause of non-fatal injuries in the industry. A fall accident or a falling object accident on a New York construction site can lead to horrific injuries. Any worker hurt on a construction site needs immediate medical treatment.
New York State Labor Law 240 Requires Employers to Use Proper Scaffold Safety Standards 
New York State Labor Law 240 was enacted to protect construction workers from the hazards of working at elevated heights. How does the law work in practice? It mandates that construction companies, general contractors, and property owners must follow all appropriate safety precautions when workers are at height. If any scaffolding is in place, the law applies. Notably, the statute holds that all scaffolds and related equipment must be constructed, placed, and operated to provide proper protection for workers. Among other things this includes:
Ensuring that scaffolds are strong enough to bear the weight placed on them;
Ensuring that scaffolds have secure and sturdy railings; and
Ensuring that all equipment is properly secured to prevent falling objects.
Injured Workers May Have a Strict Liability Claim Against a Contractor or Property Owner
 Under New York State Labor Law 240, a worker injured due to a violation of the scaffold safety requirements may have a strictly liability claim. In other words, the injured worker does not need to prove negligence on the part of the contractor or property owner to recover damages. Instead, the worker only needs to demonstrate that the injury was caused by a violation of the law, and that the violation was a substantial factor in causing the injury.
Strict liability claims under the Scaffold Law can help injured workers receive compensation for their medical expenses, lost wages, pain and suffering, and other damages. However, it is important for injured workers to consult with an experienced construction accident attorney to navigate the complex legal process and ensure they receive the compensation they deserve.
 Consult With Our New York Workplace Accident Lawyer Today
At Poulos LoPiccolo PC, our New York workplace accident attorneys have the skills and experience to protect the rights of injured construction workers. If you were hurt because your employer violated the New York scaffold law, we are more than ready to help. Contact us right away to set up your no cost, no obligation consultation. With a law office in New York City, we represent workplace accident victims throughout the surrounding area.
Source:
nysenate.gov/legislation/laws/LAB/240