The Pedestrian's Guide To Crosswalk Accidents In New Jersey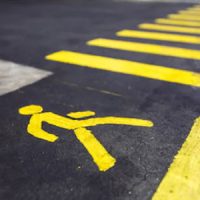 Pedestrian safety remains a serious concern. The Centers for Disease Control and Prevention (CDC) reports that more than 7,000 pedestrians were killed in motor vehicle crashes in 2020 alone. Tens of thousands more pedestrians sustained serious injuries.
A significant share of pedestrian accidents happen when the pedestrian is crossing within the bounds of a crosswalk. In this article, our New Jersey pedestrian accident attorney provides a comprehensive guide to crosswalk accident injury claims in New Jersey.
An Overview of Crosswalk Laws in New Jersey 
As explained by the New Jersey Department of Transportation, "crosswalks are the safest place for people on foot to cross a road." There are specific rules and regulations for crosswalks—and both motorists and pedestrians should be aware of them. Here are three key things to know about crosswalk laws in New Jersey:
Crosswalks May Be Marked or Unmarked: New Jersey has both marked crosswalks and unmarked crosswalks. An unmarked crosswalk stretches from one side of an intersection to another. A marked crosswalk is any part of the marked with paint or a different texture designed to delineate it as a crossing space for pedestrians.
A Pedestrian has the Right-of-Way—Unless Stated Otherwise: Pedestrians have a presumed right-of-way at crosswalks in New Jersey, including unmarked crosswalks. However, they do not have the right-of-way if there is a traffic signal. Pedestrians crossing against a traffic signal are violating the right-of-way.
Pedestrians Have a Duty to Keep Alert and Cross With Caution: New Jersey law is clear: Pedestrians also have responsibilities to keep themselves and others safe. They must stay alert and cross with caution, including when within crosswalks.   
 All Crosswalk Accidents in New Jersey Require a Thorough and Comprehensive Investigation 
New Jersey uses a choice no-fault system. Some pedestrian collisions may be no-fault claims. That being said, serious pedestrian injuries are almost always fault-based legal cases. Every major pedestrian accident that happens in a marked crosswalk or an unmarked crosswalk requires a comprehensive investigation. To prove liability, an injured pedestrian should be prepared to present evidence that shows how and why an accident happened. Defendants and insurers may try to blame a pedestrian for some (or all) of their own injuries. A lawyer can protect your rights.
 Injured Pedestrians Need Full and Fair Financial Compensation 
Were you or your loved one hurt in a pedestrian accident at a crosswalk in New Jersey? Financial compensation may be available for economic and intangible losses. Our Monmouth County pedestrian injury lawyers are committed to helping clients maximize recovery. Compensation may be granted for:
Medical bills;
Lost wages;
Loss of earning power;
Pain and suffering;
Permanent disfigurement;
Long-term disability; and
Wrongful death. 
Contact Our Monmouth County Pedestrian Accident Attorney Today
At Poulos LoPiccolo PC, our New Jersey personal injury lawyers are skilled, effective advocates for injured victims. If you or your loved one was hurt in a crosswalk accident as a pedestrian, we can help. Contact our team for a free, no obligation consultation. We handle pedestrian accident injury claims throughout the area, including in Monmouth County, Ocean County, and Middlesex County.
Source:
cdc.gov/transportationsafety/pedestrian_safety/index.html