How Often Do Motorcycle Crashes Result In Injuries?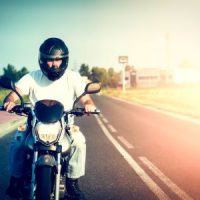 Motorcycles are popular in New Jersey. According to data obtained from Statista, there are more than 120,000 licensed motorcyclists in the state. With so many motorcyclists on the road, crashes become a near inevitability. Unfortunately, motorcyclists are at an especially high safety risk.  In this article, our New Jersey motorcycle accident attorney discusses the data and explains what you should do if you were hurt in a motorcycle crash.
Know the Motorcycle Accident Injury Statistics
The majority of motorcycle accidents reported in the United States result in an injury (or worse) to the rider. According to data compiled by the National Highway Traffic Safety Administration (NHTSA), motorcyclists are injured or killed in 80 percent of all reported motorcycle accidents. Some of the most common motorcycle accident injuries reported in New Jersey include:
Scrapes, cuts, and lacerations;
Broken/fractured bones;
Sprains and strains;
Back injuries;
Facial injuries.
Traumatic brain injuries (TBIs);
Amputations;
Spinal cord damage.
Although motorcyclists can never completely eliminate the risk of a crash, they can go a long way towards protecting themselves from a serious injury. You should always operate a motorcycle in a safe, attentive manner. Additionally, you must wear a helmet. Motorcycle helmets prevent brain injuries and save lives.
What You Should Do After a Serious Motorcycle Crash in New Jersey 
Were you or a loved one involved in a serious motorcycle wreck in New Jersey? If so, it is essential that you know how to protect your interests. Here are four steps to take after a collision:
Stop Your Motorcycle, Report the Collision: You need to stop your motorcycle after a crash. In New Jersey, all injury crashes―including single motorcycle accidents―should be reported.
Seek Medical Care From a Licensed Doctor: You need to get medical care for your own well-being. You cannot recover personal injury compensation for a motorcycle accident without seeing a doctor.
Document the Motorcycle Accident: Try to proactively document the crash. Take pictures, get witness names, and obtain the police report.
Consult With a New Jersey Attorney (Before an Insurer): An insurance company is not on your side. You should speak to a New Jersey motorcycle accident claims lawyer before you give a statement to an insurance adjuster. 
You need financial compensation to pay bills and support your family after a major New Jersey motorcycle crash. You may be able to recover for motorcycle repairs, medical bills, lost wages, pain and suffering, and other damages. 
Set Up a Free Case Review With a New Jersey Motorcycle Accident Lawyer 
At Poulos LoPiccolo PC, our Ocean motorcycle accident attorneys are compassionate, justice-driven advocates for injured victims. If you or someone close to you was hurt in a motorcycle collision, we are here to help. Call us now or connect with us online to set up a no cost, no obligation initial legal consultation. With a legal office in Ocean, we represent motorcycle accident victims and their families in Monmouth County and throughout the surrounding region.
Sources:
one.nhtsa.gov/people/INJURY/PEDBIMOT/MOTORCYCLE/motorcycle03/index.htm#:~:text=The%20effects%20of%20a%20crash,result%20in%20injury%20or%20death.
statista.com/statistics/191002/number-of-registered-motorcycles-in-the-us-by-state/