Bicyclist Killed In Tragic Collision In Monmouth County, New Jersey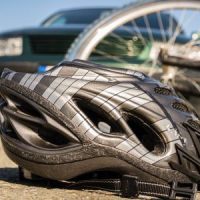 According to a press release from the Office of the Monmouth County Prosecutor, a bicyclist from Ocean Township, NJ was killed in a tragic motor vehicle collision. Li Wang, 62, was killed in a crash with a box truck after the truck made an unsafe left-hand turn. Here, our Monmouth County bicycle accident lawyer explains what we know about this tragic collision and highlights the risks that bicyclists continue to face.
Bicyclist Killed in Crash With Box Truck, Unprotected Left Turn Accident
 Emergency services personnel responded to the scene of a bicycle collision in Ocean Township in the early morning hours of December 9th. The accident happened at the intersection of Roller Road and Deal Road. Both Li Wang (bicyclist) and the driver of a Ford F-350 box truck were stopped at a red light. When the light turned green, the victim proceeded straight. The truck driver made an unprotected left turn, striking the cyclist. The victim was immediately transported to a local emergency medical center. Tragically, she succumbed to her injuries and was pronounced dead. The crash remains under investigation by the Ocean Township Police Department.
Motor Vehicles Pose a Safety Threat to Bicycles 
Bicycles are a healthy, environmentally-friendly, and cost-effective form of transportation and recreation. Unfortunately, bicyclists face a persistent safety threat from motorists. The Centers for Disease Control and Prevention (CDC) cites data showing that around 1,000 bicyclists are killed and 130,000 are injured in accidents each year.
Bicyclists are vulnerable road users who face a number of risks when sharing the road with motorists. Motorists may not always be aware of or pay attention to bicycles, which can lead to accidents and injuries. Bicyclists are also at risk of being hit by cars that are turning or changing lanes, as well as from drivers who are distracted or impaired.
Unprotected Left-Turns are a Risk to Both Bicyclists and Pedestrians 
Unprotected left turns can be a significant risk to both bicyclists and pedestrians. These types of turns occur when a driver turns left across the path of oncoming traffic without the benefit of a traffic signal or stop sign to control the flow of traffic. Why this type of relatively common traffic maneuver can be particularly hazardous for bicyclists and pedestrians is because motorists may not always spot their presence. A driver may not see a cyclist or pedestrian who is directly into their path. It is imperative that all motorists in New Jersey take the highest level of safety precautions when making left-turns, especially unprotected left turns.
Contact Our Monmouth County, NJ Bicycle Accident Attorney Today
At Poulos LoPiccolo PC, our Monmouth County bicycle accident lawyers are skilled, experienced, and justice-driven advocates for victims and their loved ones. If you or your family member was hurt in a serious bicycle accident, we are here to help. Contact us now to set up your no cost, no obligation consultation. We represent bicycle accident victims in Monmouth County and throughout the surrounding region in New Jersey.
Sources:
cdc.gov/transportationsafety/bicycle/index.html#:~:text=Deaths%20and%20Injuries,the%20United%20States%20every%20year.
mcponj.org/2022/12/14/female-bicyclist-dies-in-ocean-township-motor-vehicle-crash/