Can You Be Fired For Becoming Pregnant?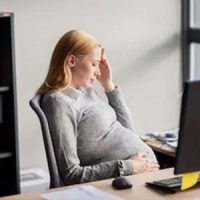 Unfortunately, pregnant workers sometimes face unfair treatment from employers. This raises an important question: Can you be fired because of a pregnancy? The general answer is "no"—there are federal and state laws that protect workers against pregnancy discrimination. In this article, our New Jersey pregnancy discrimination attorneys explain the most important things that you need to know about your rights under federal law and state law.
An Overview of Pregnancy Discrimination Laws 
A worker fired because of pregnancy may have a wrongful termination claim. To bring a successful wrongful termination lawsuit in New Jersey or New York, you must prove a violation of your rights under either federal law or state law. Here are the key pregnancy discrimination laws that you need to be aware of:
Federal Law: The Pregnancy Discrimination Act of 1978 amended Title VII of the Civil Rights to bar pregnancy discrimination. It is illegal for employers to fire workers because of pregnancy. However, federal law only applies to companies with 15 or more employees.
New Jersey Law: The New Jersey Law Against Discrimination (LAD) forbids discrimination on the basis of pregnancy. All employers of all sizes (except federal agencies) are covered by the LAD.
New York Law: The New York State Human Rights Law also bars pregnancy discrimination. The law applies more broadly than federal law but less broadly than New Jersey law. It covers employers with four or more employees.
Three Steps to Take If You Believe that You Were Fired for Becoming Pregnant 
If you or your loved one was fired after becoming pregnant, it is imperative that you take immediate action to protect your rights and your interests. Pregnancy discrimination is unacceptable. Here are three steps to take if you believe that you were fired because of your pregnancy:
Document Everything—Preserve Any Evidence You Have: To establish wrongful termination for pregnancy discrimination, you must prove causation. In other words, you must prove that you were fired because you became pregnant. The more information you have, the better position you will be in to prove discrimination.
Be Proactive (Limited Time to File a Claim): You have a limited amount of time to file a wrongful termination claim for pregnancy discrimination. Be proactive. If you believe that a firing was illegal, you have the right to take legal action to get justice and compensation.
Consult With Pregnancy Discrimination Attorney: You do not have to navigate the claims process alone. An employment lawyer with experience handling pregnancy discrimination claims and wrongful termination cases will protect your rights.
Get Help From a Pregnancy Discrimination Lawyer Serving New York and New Jersey
At Poulos LoPiccolo PC, our pregnancy discrimination attorneys are skilled, tireless advocates for justice. If you or your loved one was terminated or otherwise discriminated against due to a pregnancy, we are here to help. Contact us today to set up your strictly confidential, no obligation consultation. We handle pregnancy discrimination claims in New York and in New Jersey.