Real Estate Companies Based in New York Face Federal Lawsuit for Pregnancy Discrimination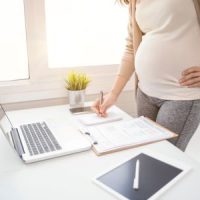 On August 29th, 2023, the Equal Employment Opportunity Commission (EEOC) announced that a federal pregnancy discrimination lawsuit has been filed against a group of interconnected real estate companies in New York State. Three companies—which collectively own and manage commercial properties—allegedly unlawfully terminated a female employee shortly after learning of her pregnancy status. Here, our New York City pregnancy discrimination attorney discusses the lawsuit and highlights key things employees should understand about their legal rights.
Allegations: Employee Wrongfully Terminated Based on Pregnancy Status 
In August, the EEOC filed a pregnancy discrimination lawsuit against three real estate companies. Here are the basic allegations: An employee who was responsible for managing a property in Louisiana, informed her boss of her pregnancy but that she intended to keep working. Despite having no medical limitations, her supervisor allegedly doubted her capabilities.
Within a week, her position was advertised on Indeed.com. When questioned, the supervisor stated that both the company owners and she believed the employee could continue to perform. Notably, the federal pregnancy discrimination lawsuit was filed in New York because two of three defendants are headquartered in the state.
 Pregnancy Discrimination Can Give Rise to a Wrongful Termination Claim 
New York is an at-will employment state. Companies and organizations have broad discretion to make their own personnel decisions. However, they cannot terminate a worker for illegal reasons. Under federal law, New York State law, and local regulations in New York City, pregnancy status is a protected category. Termination based on pregnancy essentially denies a woman her right to work and support her family. It is unlawful and can give rise to a wrongful termination lawsuit.
 How to Prove Wrongful Termination Based on Pregnancy Discrimination 
How do you prove that your pregnancy status was a factor in your termination—or other adverse action that you faced. Here is an overview of some of the evidence that can be used to establish pregnancy discrimination in New York:
Direct Evidence: Direct evidence includes explicit statements or actions by the employer indicating a bias against pregnant employees. For example, if an employer makes a comment about an employee's ability to work because of her pregnancy before terminating her, it is direct evidence.
The Timing: If the termination closely follows the announcement of the pregnancy, it can suggest a link between the two events. Indeed, temporal proximity—the closeness in time between two events—can be used as evidence in a wrongful termination case.
Comparative Treatment: Evidence that non-pregnant employees with similar roles and responsibilities were treated differently or more favorably can be crucial. For instance, if a pregnant employee was the only person affected by a corporate "downsizing" that could be evidence of wrongful termination.
Contact Our New York Pregnancy Discrimination Attorney Today
At Poulos LoPiccolo PC, our New York pregnancy discrimination lawyer is a results-focused advocate for employees. If you or your loved one was subject to pregnancy discrimination at work, we can help. Call us now or contact us online for a fully confidential case evaluation. With an office in New York City, we represent employees in pregnancy discrimination cases throughout the region.
Source:
eeoc.gov/newsroom/eeoc-sues-intertwined-real-estate-companies-pregnancy-discrimination