Suffered A Whiplash Injury In A Car Accident? What You Need To Know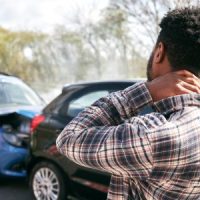 The Mayo Clinic defines whiplash as a soft tissue neck injury that occurs "due to forceful, rapid back-and-forth movement of the neck." It is one of the most common—and painful—soft tissue injuries reported in car accidents. If you sustained whiplash in a motor vehicle collision, it is crucial that you know how to protect your legal rights and your financial interests. Here, our Monmouth County car accident lawyer provides a guide to whiplash injury claims.
Seek Immediate Medical Attention (and Follow-Up Care) for a Whiplash Injury
 Were you hurt in a car crash? You need to seek immediate medical attention. Whiplash and other types of soft tissue issues have the tendency to linger if proper medical care is not provided. It is important for your health, well-being, and physical recovery to see a doctor after an accident. You have a right to get treatment. Additionally, you need to get professional medical care to be eligible to pursue personal injury compensation for whiplash. No medical records means no viable claim.
 Know the Challenge of Bringing a Soft Tissue Damage Claim 
Whiplash is a type of soft tissue damage. One of the challenges associated with soft tissue damage injury claims is that there is generally no definitive "test" to determine the scope and severity of such an injury. Of course, this does not make whiplash any less real, any less painful, or any less debilitating for the person who is going through it.
Still, it is imperative that you are prepared to face some pushback from an insurance company. Insurers tend to be especially aggressive in defending whiplash and other soft tissue injury claims. It is crucial that car accident victims with a whiplash injury know how to present a strong, compelling, and well-supported case.
 Understand Your Rights/Options Under New Jersey or New York Law 
New Jersey and New York are somewhat unique for car accident injury claims. Both states are among the minority of U.S. jurisdictions with no-fault car accident laws. Here is what you need to know about your rights and options for these states:
New Jersey Car Accident Laws (No-Fault): New Jersey is a "choice" no-fault state. Drivers may opt-out of the no-fault system. If you do have no-fault coverage, your initial claim is through your own insurance company (PIP policy) regardless of fault.
New York Car Accident Laws (No-Fault): New York has an even more comprehensive no-fault law. It is not a choice state. A whiplash claim is generally a no-fault claim in New York. Though, a person with a severe whiplash injury—one that is debilitating for at least 90 of the first 180 days after the crash—may be able to go outside of the no-fault system. 
 Schedule a Free Consultation With an Experienced Personal Injury Lawyer
At Poulos LoPiccolo PC, our car accident lawyers are skilled and experienced advocates for justice. Injured victims need full and proper financial compensation after an accident. If you suffered whiplash in a car crash, we are here to help. Contact us today to set up your free consultation. Our firm handles car accident injury claims in New Jersey and New York.